Thank you for your continuous support for
VINTAGE QOO TOKYO online store.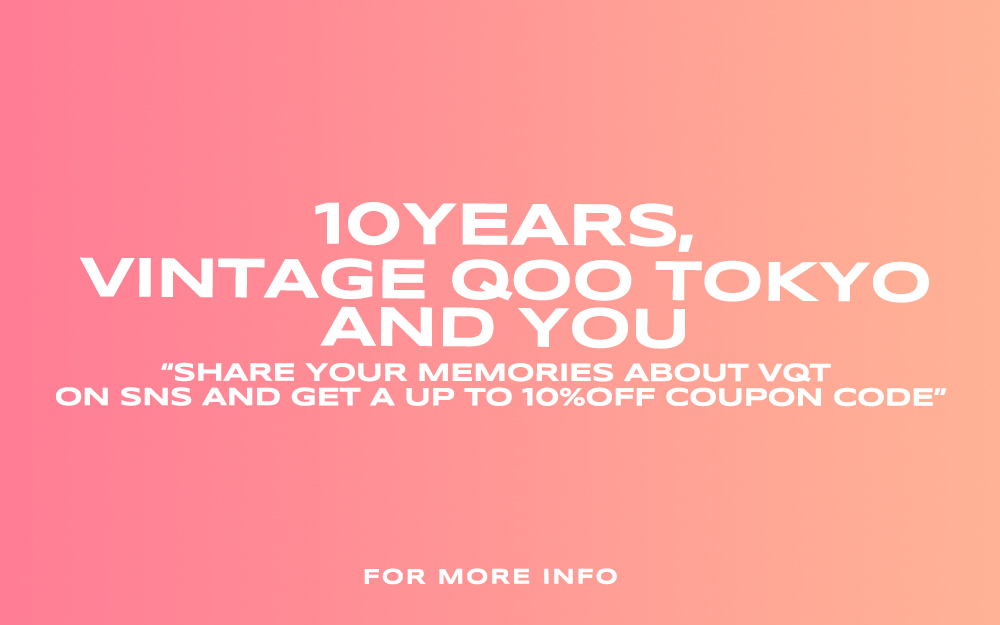 Share your vintage shopping experience
on SNS,
and get a
up to 10%OFF coupon code!



How to get the coupon code?
Share the photo of an item
you have purchased at VINTAGE QOO
along with a review!


※The screenshots from online store
and Instagram feeds are not allowed.

*Only public accounts are allowed.


Where to share?
Instagram Post
Instagram Story
Instagram Reels
Weibo
RED BOOK



What's the rules?
(1)The photo must be taken directly
with QOO related content.
(The photo of inside the store,
or the photo of item you purchased
or wearing photo, etc.)

(2)Please hashtag #vintageqoo


(3)Please tag VINTAGE QOO TOKYO's
official Instagram account on your photo


Coupon code
When you share on Instagram feed:10%OFF
When you share on Instagram Stories:5%OFF
※Other coupons and discounts
cannot be used together


When will this end?

30th June/ 2022, 23:59JST


If you follow the rules written above,
and share us a nice photos on your
Instagram, Weibo or Redbook account,
we will send you a coupon code
to your SNS account thorugh DM.


*Remember, your post will not be qualified
if you miss any of the 3 rules written above
So please keep that in mind.

We are looking forward to see the
beautiful photo reviews from you all.
※Please note that we cannot keep any items
since our items are one of a kind
※Frequently asked questions
※Customers who haven't recieved emails
or replies from us
VINTAGE QOO TOKYO e-commerce Team